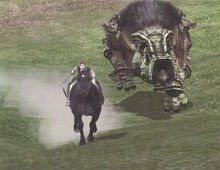 Hi, my name is Gert de Hond and welcome to my userpage. I love both Team Ico games and find this wiki to be both useful and interesting to read, something I can't say about every wiki, and thus decided to contribute.
I am psyched about the unused colossi (especially Sirius) and enjoy using the Time Attack items of Shadow of the Colossus to experiment, such as the Cloth of Desperation and Harpoon of Thunder. My favorite colossus is number 8; Kuromori.
Recently, I've become an admin of this wiki, so ask me anything if you've got a question!
P.S. Gert is not my real name, that's a secret ;)
My favorite pages
Community content is available under
CC-BY-SA
unless otherwise noted.