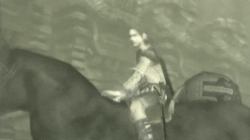 Fumito Ueda, the creator of Shadow of the Colossus, originally had 48 colossi in mind when planning the game. Realizing that putting in that many colossi was not possible, the number was cut down to 24. It was only then that Team Ico began to develop the models, according to this section from the artbook interview:
Ueda: At first there were 48 or so. We didn't have anything specific, just a vague idea of the number. Then, once we were down to 24, we started to come up with ideas for the strategy and make models.
Eventually, the number of colossi used in the game became 16, with nine of the unused colossi (ten counting the original final boss) appearing only in the artbook. Some are quasi-prototype versions of colossi that survived the final version of the game, other designs were discarded to improve game flow, and some were cut for lack of time and/or budget. Griffin and Saru were originally part of the 24 colossi plan, but were cut in very early stages of development and replaced with other colossi.
Unused Colossi
(¹) Griffin and Saru are confirmed to have never been placed on the game's map; they could've only been encountered by booting up their test areas.
Trivia
Several previously unknown Colossi names were discovered in the PS3 sheets, they are referred to as the Datamined Colossi. They are likely to be rejected designs from very early on in development, and elements of them were reused for others.
The PS3 sheets reveals that all unused colossi (except for Griffin and Saru), had unique idol statue models with their own texture, not being a Valus copy like the ones shown in early trailers. Worm's idol texture is the only one that survived in the final game, as it shares Phalanx's file.

Evis, while having an idol statue listed, never had its own unique model and texture, being a Valus copy until right before the game launched, when it was replaced by Buddha's idol.
Gallery
External links
Interview with the game the director and project manager, from the official guidebook and artbook.