The Umbral Glade is a lightly-forested, rocky, and somewhat mountainous area in the northwestern Forbidden Lands (quadrant C1). Only the northernmost portions of this area are in direct sunlight. Much of the hilly terrain can be explored on the path leading east to the northern gorge, but there isn't much to find aside from some pillars sticking up from the upper hills, indicating some ruin that has long-since worn away.
Many of the larger trees in the Glade can be climbed, but there is no fruit on their branches. Though the area is rich in terms of terrain and flora, the scarcity of anything living in the shadow of the southern mountains (save for a few lone lizards) gives the area an isolated feel on par with some of the flat and open plains far to the southeast.
Significant nearby areas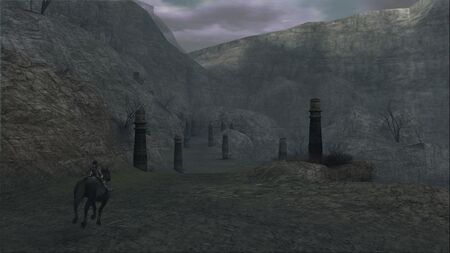 There is a path leading up the southern hills, and a branch directed west leads to a cave. The Ruins and Cenobia await beyond.
The lake where Hydrus lives is one quadrant away to the east, but getting there is not straightforward. The player must go southeast into the Stone Arch Gorge, then northeast into the western marsh when the path forks.
The pillars mentioned earlier can also be seen atop the cliffs on the perimeter of Hydrus' lake. Similar pillars can be seen jutting out of the lake itself, and many of them resemble the electrical spikes on the back of the colossus.