The Last Guardian: An Extraordinary Story is the official art and guidebook for the GenDESIGN game The Last Guardian. It was written by Future Press and published June 2017, a year after the PlayStation title's worldwide debut.
Official desription
A New Breed of Game Book Fumito Ueda's long-awaited third game tells an unlikely tale of companionship between a small boy and the huge, fantastic beast Trico. Future Press is proud to present a very special companion book that illuminates how the story was created and reveals countless details about the inner workings and inspirations behind The Last Guardian's mysterious world.
The Beauty of an Art Book... Ueda's distinctive visual flair is on full display as gen DESIGN and JAPAN Studio walk us through the adventure, answering our questions along the way. Beautiful sketches depicting the designers' intent, storyboard and screenshot comparisons of key moments, and never-before-seen illustrations are all carefully presented.
...The Depth you expect from Future Press We've taken our strategy guide expertise and applied it to The Last Guardian in a manner befitting its many mysteries. For those seeking a deeper understanding of how the game works, our visual walkthrough highlights the game's narrative clues while exploring its most hidden corners.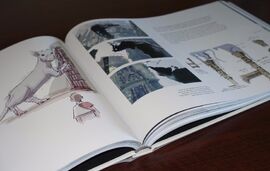 A Worthy Companion
Striking a balance between visual splendor and technical detail, this book celebrates Ueda's singular vision and the dedicated team that helped bring it to life. The art and interviews contained within promise to reveal unexpected insights and fuel further discussions amongst fans everywhere."
"Ever since being founded in 1998, Future Press has been dedicated to producing the highest quality game guides in the world. Our team of highly professional authors and designers work together to guarantee a harmonious and logical interplay between content and design. We've worked closely with the most renowned and successful publishers and developers in the industry, always aiming to redefine what a game guide can be. Our focus is, and always has been, on creating the best possible guide for the game we're covering. This is why we only produce one guide at a time, with our entire staff dedicated to its production. Our core team of authors is made up of exceptionally skilled gamers, working alongside single-project specialist players who are among the best in the world at the type of game we're writing about. Our ultimate goal is to give the reader the best possible understanding of the game they are playing and to deepen their enjoyment of playing it, regardless of their skill level." -- Amazon.com
Gallery
External Links
The Last Guardian: An Extraordinary Story at Amazon.com



Community content is available under
CC-BY-SA
unless otherwise noted.