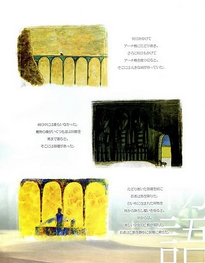 "
That place...began from the resonance of intersecting points... They are memories replaced by ens and naught and etched into stone. Blood, young sprouts, sky - and the one with the ability to control beings created from light... In that world, it is said that if one should wish it, one can bring back the souls of the dead. But to trespass upon that land is strictly forbidden...
"

–Lord Emon
The Forbidden Lands (Japanese: 禁断の地 kindan no ji; also 古えの地 inishie no ji, lit. "land of the ancient times") are a vast expanse of open plains, narrow passages, large deserts, and thick forests. It is the setting for Shadow of the Colossus, and almost all of it is open to explore right at the beginning of the game. The sixteen colossi, the physical manifestations of the sixteen pieces of Dormin, are dispersed throughout; the Ancient Sword is used as a compass in sunlit areas to point the way to the next colossus.
The Shrine of Worship sits in the center of the Forbidden Lands. The only way to reach it - to reach the Forbidden Lands at all - is by a long, thin bridge that extends from the Shrine all the way to an adorned entrance at the top of the northern cliffs. The Forbidden Lands has many unique and varied locations. Some are rugged and harsh, while others are lush and beautiful. Certain areas are home to the colossi and can be hard to navigate. Lakes, rivers, deserts, forests, mountains, plains, and the ruins of an ancient civilization are just some examples of the landscape.
Maps
See also: Blank map of the Forbidden Lands
Location Chart
Early Locations
1
Hydrus
Lakeside
Celosia
Leo's Cave
Worm
Dune

Argus
Parthenon

I1
2

Early world border

Cenobia
Ruins
Devil
Devil's Plain
Gaius
Arena
Pelagia
Poseidon's Lake

H2

Beta Dam
3
Yamori A
Sluice
Quadratus
Proto
Avion
Canyon

Basaran
Geyser
4
Dirge
Gravewind
Shrine of Worship
Beta H4
Phoenix
Crater
5
Valus
Temple
Phaedra
Kirin's Hill

H5

I5

6
Beta Plains
Beta Plains
Roc
Badlands
Phalanx
Desert
Kuromori
Underground
7
?
8
Sirius
Stonehenge
Beta F8
A
B
C
D
E
F
G
H
I
Music
There are two pieces of music from the game's soundtrack that are associated with the Forbidden Lands, even though neither of them are heard as an overworld theme, and they play if the game's main menu is left to idle. The first piece, "The Farthest Land" (alternatively translated as "End of the Land" in the iam8bit vinyl record album), features the Bozouki instrument, and it is heard during the Agro roaming sequences. The second, "Sky Burial", features an oboe melody, and it plays during the kite flight sequences. See Shadow of the Colossus: Roar of the Earth for further details.