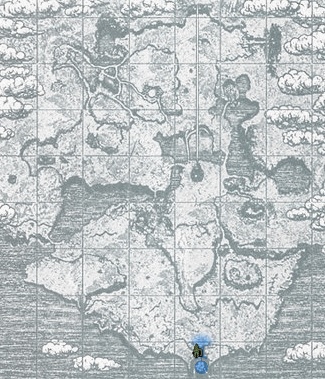 The Broken Seal is a special location in quadrant F8 of the Forbidden Lands and the final save shrine. The small area can only be accessed after defeating 15 colossi, and it is necessary to go through this area to reach the Sanctuary, where the sixteenth lives. The Broken Seal is one of the only locations in the game that has a save shrine in close proximity to the colossus. Upon entering the Broken Seal, the player will see the save shrine to the right and a set of stairs to the left.
Access
The area gets its name from the means by which Wander is finally able to access it. Wander must open a gigantic door that previously blocked off the area by shining the Ancient Sword's light onto a great seal. Doing so will trigger a short cutscene of the door opening. As Malus is obviously the only colossus in that direction from the door (and considering the colossi must be encountered in order), the area is inaccessible until all other colossi have been killed.
Bridge
There is another reason the area is closed off. Beyond the final save shrine lies a dangerous bridge that will collapse when the slightest bit pressure is exerted onto it. Wander cannot cross it in time on his own; he must ride Agro across, and even she unfortunately cannot cross it in time and must throw Wander the remaining distance.
Weather
The Broken Seal is the only location in Shadow of the Colossus in which the player will experience weather change and change in wind direction. The final battle with Malus takes place in a thunderstorm and is the only instance other than the opening cutscene and the end credits in which rain and thunder are seen.