Sirius was an unused colossi that was removed from the final version of the game. It is one of two unused colossi, the other being Monkey, that does not have a fan-given name and is therefore simply called Sirius, as the designers nicknamed it. It was cut from the game "as the way to defeat it just wasn't working out".
Appearance
Sirius was a relatively small colossus, about the same size as Celosia and Cenobia (though a little taller than both), resembling a giant boar or hog. Unlike these colossi, Sirius had relatively little body armor and an exposed back with fur on it. This indicates that its weak spot was constantly exposed during the battle.
Strategy
Sirius was, also similar to Celosia and Cenobia, very fast and - possibly - very aggressive. It had to be defeated while riding Agro, as it would chase the player at high speed. Because it had virtually no body armor, the main obstacle of fighting this colossus was not removing it, but simply getting on its back.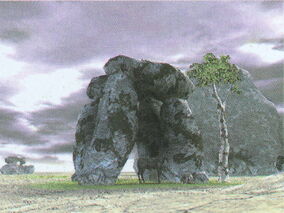 The artbook gives a clue about how Sirius had to be defeated, as it says that "rocks meant to be used in the fight with Sirius", with a picture of a Stonehenge-like monument. It can be assumed that Sirius would chase Wander while on horseback, and the player had to ride through this monument. As a result, Sirius would get stuck and the player could stab its major sigil(s). This monument can still be found in the released version of the game, at quadrant G7; thus, it can be assumed that that's the location Sirius was fought.
Gallery



Community content is available under
CC-BY-SA
unless otherwise noted.