Sirius was an unused colossi that was removed from the final version of the game. It is one of three unused colossi, the others being Saru and Yamori_A, that does not have a fan-given name and is therefore simply called Sirius, as the designers nicknamed it. It was cut from the game "as the way to defeat it just wasn't working out".
Appearance
Sirius was a relatively small colossus, about the same size as Celosia and Cenobia (though a little taller than both), resembling a giant boar or hog. Unlike these colossi, Sirius had relatively little body armor and an exposed back with fur on it. This indicates that its weak spot was constantly exposed during the battle.
Strategy
Sirius was, also similar to Celosia and Cenobia, very fast and - possibly - very aggressive. It had to be defeated while riding Agro, as it would chase the player at high speed. Because it had virtually no body armor, the main obstacle of fighting this colossus was not removing it, but simply getting on its back.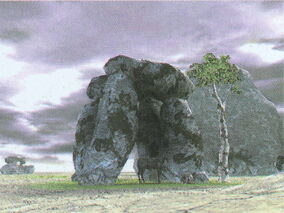 The artbook gives a clue about how Sirius had to be defeated, as it says that "rocks meant to be used in the fight with Sirius", with a picture of a Stonehenge-like monument. It can be assumed that Sirius would chase Wander while on horseback, and the player had to ride through this monument, making Sirius get stuck on it. PS3 sheet data also reveals that the rocks would collapse, possibly on top of it.
There were multiple Stonehenge-like structures in Sirius' arena, as you can see a second Stonehenge-like structure in the background of a screenshot of it. The presence of multiple structures and a leftover Sirius animation of three backwards steps suggests Sirius dislodged itself from the rocks and the process of getting them to fall onto Sirius had to be repeated. This monument can still be found in the released version of the game, at quadrant G7; thus, it can be assumed that that's the location Sirius was fought.
Location
Lived at G7, as proven by a Stonehenge-like structure seen at G7 matching the one used in Sirius' fight as described and shown in the artbook. A remnant of the pile of rocks next to the Stonehenge structure can also be seen in the final game at G7.
Trivia
Sirius' arena is the only known beta colossi arena still accessible without hacking the game
The small cave leading to the edge of a cliff at G7 was confirmed by a Team Ico developer to be where Sirius emerged from at the start of the fight.
A Team Ico developer also confirmed the arena to be G7 and stated that once Sirius was removed, it turned into a flat plain.
Sirius was approximately 10.5 metres in length and 6 metres tall.
According to a Team Ico developer, the towers of Cenobia's fight were added after Sirius' removal.
A texture called "sz_hn_sirius_hifu07_f" is present in the game files, however, it is not listed in the texture parameters for Sirius. After changing the texture's saturation and color, it was discovered that it was indeed the same one used on Sirius, just slightly modified.
There exists two designs of Sirius from different stages of development; an earlier design from the time Wander wore a blue vest and a more recent one from the time Wander had red hair. The earlier design was darker, whereas the recent design's a lot lighter.
Sirius' name most likely originates from the brighest star in the night sky "Sirius" or "α Canis Majoris", also known colloquially as the "Dog Star".
Gallery



Community content is available under
CC-BY-SA
unless otherwise noted.