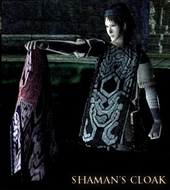 The Shaman's Cloak is an item gained by defeating eight colossi on Hard Time Attack in Shadow of the Colossus, and it reduces the damage colossi do to Wander. It has no effect on the damage he deals to colossi, however. It is the same cloak that Lord Emon wears and goes along with the Shaman's Mask and white Agro.
Dormin says the following upon retrieving the item:
"
That is the "Shaman's Cloak"...
By wearing it, thou shalt receive less injuries...
"

 
Gallery


Community content is available under
CC-BY-SA
unless otherwise noted.