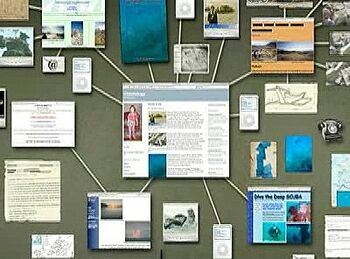 Before Shadow of the Colossus was released in North America and Japan in late October 2005, Sony launched an unexpected and thorough viral marketing campaign to promote the game.
In January 2005, a TypePad blog called Giantology was created to serve as the hub for the campaign. The blog's author was Eric Belson, a 28-year-old electronics store worker (and avid gamer) who lived in Evanston, Illinois with his girlfriend Lauren. He declared himself "the world's first Giantologist", coining the term "Giantology" after finding in a Google search that no one was using the term. He revealed the blog would be used as a place to post his research he was collecting for a book, whose working (and apparently final) title was The Age of Giants.
The campaign was a huge success. Its fictional characters were offered book deals, research assistance and interview requests; its hoaxes were talked about by not only thousands of forums but also prominent radio and talk shows. In total, the campaign was viewed by approximately 25 million people from over 110 countries.
The campaign (October - December 2005)
In October 2005, Belson began to post media and information concerning five very unusual finds throughout the world - all of them were actually a clever look at five of the game's sixteen colossi.
The excavation at Jebal-Barez

Main article: Jebal-Barez skeleton

First posted on Giantology: October 5, 2005

The first section of the viral campaign started when Giantology posted a link to a site belonging to Dutch archaeologist Casper Shilling, who claimed to have found the skeleton of an unprecedentedly large beast while on an expedition in the Iranian mountains of Jebal Barez. Schilling took several photographs and sketches of the remains. The skeleton was, in reality, a construction modeled after the thirteenth colossus, Phalanx.
The giant of the Tamil Nadu tsunami

Main article: Tamil Nadu tsunami giant

First posted on Giantology: October 6, 2005

One day later, Giantology came up with another story, this time with a video of a local-news report in India about an enormous skeleton carried to the shoreline of Tamil Nadu by a recent tsunami. The video included a helicopter flyby of the remains, which were modeled after the first colossus, Valus.
The eel of the Sulu Sea

Main article: Sulu Sea eel statue

First posted on Giantology: October 10, 2005

190 feet below the surface of the sea near Australia, a team of scuba divers led by Ed Guyler claimed to have found an enormous statue. Tests apparently revealed that the material the statue was composed of was bone, and that it had been, at one point, alive. The website stated that they believed the giant was a subspecies of eel, but the discovery in the hoax was actually the seventh colossus, Hydrus.



The discovery and coverup of the Franz Josef Land giant

Main article: Polarneft conspiracy

First posted on Giantology: October 21, 2005

A geologist by the name of Arkady Simkin supposedly traveled to Siberia on an expedition for oil, but what he was said to have found instead was a colossus. A half-frozen ice giant he referred to as Taurus major, the beast in this particular hoax is the second colossus, Quadratus. When the site was online, it had a video of the colossus' discovery, as well as what looked to be a 3-D scan of the corpse, and a picture of a cave painting depicting men hunting the colossus. The video of the scan and the cave painting could be accessed by inputting the correct password (which was 'polaricegiant').
The discovery of a strange statue in Peru

Main article: Sayre family vacation

First posted on Giantology: November 18, 2005

When Andrew and Ellie Sayre took a family vacation to Peru, they made an unexpected discovery of a statue that "wasn't in any of the guide books". The statue is actually a big model of the third colossus, Gaius. The family also took a photo of some old cave glyphs that they thought had something to do with the statue. The video of their discovery was actually the first media filmed for the campaign, and was used by the viral marketers as a "demo video" to Sony.
Cave glyphs in Zambia
First posted on Giantology: December 26, 2005
The final post on the blog ended with news of yet another discovery near Lusaka, the capital city of Zambia. An anonymous reader sent the blog a photo of a newspaper clipping (seen at right) about the discovery of a cave painting of four of the colossi (Quadratus, Barba, Gaius, and Phalanx), arranged around a center glyph. Although much of the article's text is cropped, it is still possible to make out a few details:
Initial estimates date the paintings at anywhere from 20,000 to 30,000 years old. Notably, however, the Stone Age (a period of time approximately two and a half million years ago) is also mentioned in the article.
The article's title emphasizes the paintings were found in a "remote" location.
The paintings were analysed in the article by someone whose last name was "Miyasato".
Before the campaign (January - October 2005)
For nearly ten months, Belson's blog was an unassuming, ordinary look at giant creatures in history and mythology (as well a few tidbits on Lauren). What follows is a list summarizing his posts, many of them related to real-world discoveries and events. With a few exceptions (such as archived versions of webpages), every external link in this section aside from links to Wikipedia is the same page that Belson linked to.
January
January 12 - Belson introduces himself and the blog, promising much more information will be posted soon.
January 13 - Belson gives much more information about himself, including the city he lives in, his father, his job as an electronics store worker, his girlfriend, and his major interests.
January 14 - Belson reveals the blog will not be a personal blog, but will instead be used as "research" for a book he's writing (The Age of Giants is the tentative title). He hopes the book will offer a unique perspective on giants and the legends about them, citing Joseph Campbell and Bill Moyers's The Power of Myth as an inspiration. Later that day, he comes up with the term "Giantology" to describe his work, linking to a Google search of the word as proof that "no one else is really using it".
January 15 - After consulting various sources for a basic definition of the word "giant", Belson settles on "any unknown or mythological creature of colossal size".
January 17 - A look at giants as they were described in the King James Bible (Genesis 6:1 - 6:4).
January 18 - Goliath as he appeared in not only the Bible but in early 20th centery Jewish literature.
January 22 - Belson links to an article about giants. He clarifies his earlier definition: "For my purposes, a giant doesn't have to look like anything else on Earth or any other giants, and it doesn't require any kind of intelligence or reason - it simply must be giant, part of folklore/religion/mythology, and otherwise unidentified to science."
January 25 - Taking a break from giants to talk briefly about his personal life, Belson talks about his visit to Chicago's Adobo Grill, a Brazilian restaurant. Lauren, though a vegetarian, ate some of the meat there anyway; Belson, an "unapologetic carnivore", ate a large amount of red meat, joking about how he may need a colonoscopy afterwards.
February
February 3 - Belson links to a comparison between a regular human skeleton and a much bigger version supposedly unearthed in Turkey. Belson is dubious of the find, but admires the strength of the site's beliefs and claims, hoping to harness some of it for a section of his book.
February 5 - Belson shares his newfound info about the Chicxulub crater and the Cenotes. Interestingly, he goes on to recall a family vacation where he went scuba-diving in one of the Cenotes, possibly hinting at both the Sayre hoax and the Eel Statue hoax.
February 7 - Foreshadowing another hoax, Belson mentions Lake Vostok, a lake under the Antarctic ice. While not directly related to any giant or related story about them, Belson muses about what else could be hidden in the ice.
February 8 - Belson discusses another Biblical figure, Behemoth. In a post later that day, he looks at Ziz, an enormous griffin-like creature from Jewish mythology.
February 9 - Belson shares a photo of Highgate Cemetary in London, and a brief description of his trip there. He anticipates his readers will ask him why he posted about this, saying "No reason. Just popped into my head and was reminded of how much I enjoyed our tour."
February 12 - As part of a promise he made when talking about Behemoth, Belson makes a post about Leviathan and its many appearances in literature, film, and even music.
February 15 - Belson links to several webpages with pictures of cave paintings. Notably, fake cave paintings are present in many of the hoaxes. Arkady Simkin, the Sayre family, and the finders of the Lusaka glyphs all "found" depictions of colossi etched into rock or stone.
February 16 - Belson takes a break from his research to mention Lauren's addiction to shoes; she apparently has more than two hundred of them. He concedes that perhaps his addiction to games, movies, and music might be just as bad, but notes that the discs they all come on take up far less space.
February 20 - After reading an article in the February–March issue of Archaeology magazine about the project to rebuild the destroyed Buddha statues in Bamyan, Afghanistan, Belson posts another story about an effort to excavate a fabled third and much larger Buddha statue from the same location. He wonders what could drive a culture to build such statues again and again.
February 24 - Belson posts a link to a more "kid-friendly" look at giants, which nevertheless contains more interesting information than he expected. It reminds him that there are still quite a few giants he hasn't covered yet.
February 27 - Belson links to a site containing "'evidence' that dinosaurs lived with man".
March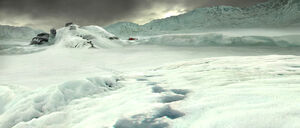 March 3 - Belson posts information about Jonah, as well as a disturbing real-life story about a sailor who was actually swallowed by a whale in 1891, and was trapped in its stomach for fifteen hours before being rescued. (The sailor survived, but the whale's digestive juices blinded him, bleached his skin white, and took all the hairs off his body.)
March 8 - While reading Monsters of the Sea, a book he picked up at his local library, Belson muses at the possible origins of the stories surrounding the many mythical beasts of the ocean.
March 10 - Belson posts about another book he checked out during his recent library visit, called Underworld: The Mysterious Origins of Civilization. Of particular note to him is the many hieroglyphs, statues, and other remnants from multiple ancient civilizations that point to evidence of giant creatures inhabiting the earth. Belson also links to a page on the website of the book's author about underwater photography of giant statues, foreshadowing the Sulu Sea eel statue hoax.
March 11 - While Lauren is away on a trip to New York for a client meeting, Belson jokingly considers throwing a big party. He actually plans to spend this time to make some progress on his book, if he can resist staying up late playing his PS2. "Choices, choices..."
March 16 - Belson shares a site containing supposed evidence that dinosaurs coexisted with the Incas.
March 20 - Belson posts about "the largest land mammal ever", the Indricothere. Well over 20 feet tall, Belson describes it as "a giant rhino" with "a long neck" and links it to several stories, especially the dragon-slaying god Indra.
March 22 - Belson describes the findings of Homo floresiensis, a discovery with significant impact on the record of human history. Belson writes: "So my thought - and why I've included it in a blog about giants is - given all the chatter about giant fossils, and scientists saying, 'Oh, this can't exist!' Well, my thought is... when you find something very very small that defies logic, isn't it equally possible to find something very, very big?"
March 24 - Belson investigates a legend that giants created the Cochimí rock paintings, not the Cochimí themselves, who claim the giants were their descendants.
April
May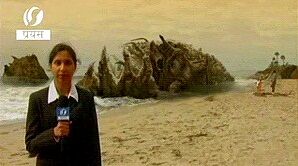 May 1 - A short post about Land of the Giants, and old sci-fi TV show from the late 1960s.
May 5 - Belson discusses two books of the Biblical apocrypha - the Book of Enoch and [Ogias the Giant]. He notes that the giants depicted in these books are considered a bad influence on mankind, despite all of their apparent knowledgeable contributions to their culture and society.
May 6 - A small post about the Hardy Boys book, Mystery of the Desert Giant. Belson is confused about what little plot summary he could find, and resolves to get back to work on his book.
May 10 - A very short post about the Roman emperor Maximinus Thrax, who was "reportedly 8 feet 6 inches tall".
May 11 - Belson lists several old sci-fi B movies about giant attacking monsters, including Attack of the Giant Leeches, The Deadly Mantis, The Giant Spider Invasion, and The Monster That Challenged the World.
May 13 - Expanding on an earlier post about Indra, Belson talks about Vritra, from the ancient Rigveda text.
May 14 - Belson links to a webpage of folktales from Cornwall about giants shaping the land.
May 16 - As a continuation of his previous post, Belson discusses the Giant's Causeway in Ireland, as well as many of the legends surrounding it.
May 18 - Belson happens upon the full text of Robert Hunt's Popular romances of the west of England.
June
July
July 2 - Belson posts about the Gorgon - not the monster from Greek mythology but an actual creature that was thought to have lived before the dinosaurs.
July 6 - After re-reading Doris Lessing's Shiksata (he originally had to read it for a class called Post-Colonial British Literature, which he describes in this post as "a real laugh riot"). One of the main ideas of the book was that Earth was first colonzied by an alien race of giants.
July 14 - Belson posts another page from the Omniology site. (He first linked to their site in his post on February 3, but apparently doesn't remember.)
July 15 - Today is Belson's third anniversary with Lauren (he bought her a pair of earrings and a matching necklace), and is taking the day off. He mentions he doesn't like shopping for clothes as gifts, preferring to keep things simple with jewelry, books and music.
July 19 - Belson describes the basilosaurus, which he jokingly calls the "first big whale".
July 20 - Belson saw War of the Worlds over the weekend; he talks about the Tripods in this post.
July 21 - After researching Humbaba, the giant slain in the Epic of Gilgamesh, Belson wonders if the giant was killed simply for the challenge of killing him. Tellingly, Belson muses whether there exists an innately human desire to take down giants and website value .
July 26 - In an attempt to answer the question rasied by his previous post, Belson reads [1], a retelling of [2] from Grendel's perspective. Instead of the hero being exalted for slaying a giant creature, this novel offers a perspective that Belson hopes will shed light on what it means for a human to slay a giant. "There is a real hatred buried at the heart of these stories that is difficult to reconcile if you think of the giants not as symbols, but as living, breathing, beings."
July 31 - Belson looks at various theories and myths about whether the Nazca Lines were made by giants.
August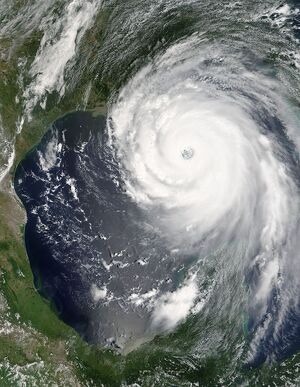 August 3 - Belson links to a news story about an unidentified creature washing up ashore, foreshadowing the eventual "discovery" of Valus. He also posts a story about a dog being cloned, a practice he opposes due to it making the pet overpopulation problem worse. (He jokingly adds he wouldn't mind having a few clones of himself to split up all of his tasks, though.)
August 7 - Belson posts a news story about the discovery of a tenth planet in the Kuiper belt of the solar system.
August 10 - Belson talks about the Giant squid in this post, linking to an online exhibition about them.
August 16 - Belson links to a story about the preservation of a 67-foot-long blue whale skeleton
August 21 - Belson shares a news story about a preserved giant footprint in Brooklyn.
August 22 - Belson links to a site about mesonychids, early ancestors of whales that had legs and were capable of walking on land. He also looks at the ambulocetus, another "walking whale".
August 23 - Returning to the Bigfoot mythos, Belson posts about a mysterious scream plaguing the small town of Liberty, Ohio, which many people have equated with Bigfoot (along with similar previous incidents).
August 29 - A very short post about the Paralititan, a genus of dinosaurs discovered around Egypt.
August 30 - Belson takes a break from giants to comment on the disaster in New Orleans, in the wake of Hurricane Katrina. He used his unique position in the home theater section of his electronics store to broadcast the news from every major network to each of the screens on the big display. He mentions he has a friend, Mike, living in New Orleans, and hopes he and his family are okay.
August 31 - At a loss for words over Katrina, Belson simply links to the front page of MSNBC, which at the time was covering the Katrina disaster.
September
September 1 - Belson receives an email from Mike - he and his family are okay, but they did not manage to escape with anything more than the clothes on their backs.
September 2 - Belson posts a work-in-progress chapter list for The Age of Giants. In a shorter post later that day, he mentions that posting the list made him more aware of the daunting challenges still ahead of him.
September 3 - A very short post about the "Ultimate Secure Home", for those who "like conspiracy rants and unique architecture".
September 5 - Belson rants about having to work double shifts on the Labor Day weekend.
September 6 - Belson posts a news story about a Chinese schoolgirl who invented a set of boots that allow one to walk on water.
September 7 - A post about the Statue of Thiruvalluvar in Tamil Nadu. To further foreshadow the coming related hoax, Belson describes the statue as "a colossus rising out of the ocean". Later that day, Belson posts a news story about construction workers uncovering the remains of a Gold Rush-era sailing ship in downtown San Francisco, saying "I have to say, I love it when mysterious or surprising crap is uncovered right beneath our noses."
September 9 - Belson posts a news story about the wingspans of flying dinosaurs, now estimated to be about 64 feet.
September 12 - Another news posting of a discovery in the seas, this time a strange humanoid resembling a mermaid.
September 13 - Belson reports on the death of Matthew McGrory, a 7-and-a-half foot tall actor known for playing giants.
September 14 - Continuing from his previous post, Belson investigates the phenomena of the short life expectancy of "human giants" like André the Giant and Robert Wadlow.
September 15 - Belson comments on the weather, which is finally getting cooler. He also says that a full moon is coming, joking that it tends to "bring out the worst in everyone".
September 16 - Belson resolves to visit downtown Chicago today, which he had been previously avoiding due to the summer heat. His friend Ryan invited him to the Double Door concert hall; Belson also wrote he wanted to go to the Gene Siskel Film Center to see Un Chien Andalou, after which he planned to "drag" Lauren to a "robot exhibit" at the Museum of Science and Industry (he mentioned he might have to take Lauren shopping on State Street to "sweeten the deal").
September 18 - "Kilauea continues to broil", Belson writes, posting an update on the volcano's status. He mentions a Greek myth that volcanoes mark the spots where giants were imprisoned beneath the earth, wondering which giant is imprisoned beneath Kīlauea.
September 20 - Eric and Lauren are planning a fall trip, and are indecisive about where to go. Belson wants to go to the UK (especially to Stonehenge), whereas Lauren wants to go to Playa del Carmen, which Belson concedes could be fun due to the abundance of Mayan ruins there. In a post later that day, Belson links to the Infinite Cat Project, and contemplates adding pictures of his own two cats to the gallery (revealing their names to be Simon and Dixie).
September 25 - After accidentally typing the wrong word into his browser, Belson happens upon a website called The Inner Body, which he decides to share with his readers.
September 26 - Belson posts a clip from a 1977 movie called Yeti: Giant of the 20th Century.
September 29 - In light of Hurricane Katrina and the California wildfires, Belson muses on natural disasters and probability. On a more lightearted note, he later posts a link to a trailer for The Shining that someone remixed to make the film look like a family comedy.
October
October 1 - Belson announces that he has bought his first domain name, Giantology.net. At the time of the post, following that URL would simply redirect back to the TypePad blog, but Belson promises bigger and better things are on the way. (He wasn't kidding; the very next post after that on October 5 was about Casper Shilling's discovery of Phalanx's skeleton.)
After the campaign
The Giantology blog, and everything it linked to, were all taken down, most of it around April–May 2006 (Casper Shilling's website, curiously, remained up and running well through late 2007), but nearly all of the content has been archived or saved in some form or another. A reconstructed version of the blog can be found here.