The Sayre family vacation refers to the "findings" posted on the website of the "Sayre Family", one of the sites created for the Shadow of the Colossus viral marketing campaign. Gaius is the colossus advertised. This hoax was first mentioned on viral marketing hub site Giantology on November 18, 2005, a full month after the game was first released.
Giantology postings
November 18, 2005
Incan Giant in Peru

---
Yet another giant has arisen.
This one a towering Incan statue in Peru, photographed by a young couple named Andrew & Ellie Sayre. Dare I even speculate on this one? I have a feeling I'll be getting plenty of comments on it, so I will just put it out there.
November 24, 2005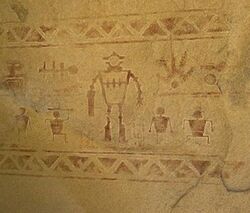 Happy Thanksgiving!

---
I've gotten a TON of comments on the Incan Statue, and it appears to be one of the Colossi [a link is provided here to an old screenshot of Gaius]. The question now is - did the game developers base their creatures on real findings of giant bones and statues? Could this be an actual real-life discovery? Or have we all been hoodwinked by some clever advertisers?
The Sayre Family website
The family's website shows a series of pictures crudely arranged in 3-column tables. Of interest is the family's "trip" to Peru, upon which they found a "bizarre statue" that "wasn't in any of the guide books". In a short movie, Ellie Sayre happens upon what is an obvious statue of Gaius.
External Links