Roc (or Avus, its fan-given name) is one of many colossi that were cut during the final stages of the game. Its name is a reference to Arabic mythology.
Appearance
The artbook says, "Its head detail resembled that of a frilled lizard", which can be clearly seen in the screenshots. Its wings seem thin and leathery, like that of a bat. Its neck is very long, because "I actually wanted to do a long-necked bird-type."
Strategy
Roc was fought in a desert-like landscape. According to the artbook, "You'd shoot it down with the bow", meaning that the bow and arrow were vital to defeating this colossus, similar to Phalanx. Because Agro can be seen in several screenshots, it is likely that she was necessary for defeating Roc by chasing it, again similar to the battle with Phalanx.
Rumors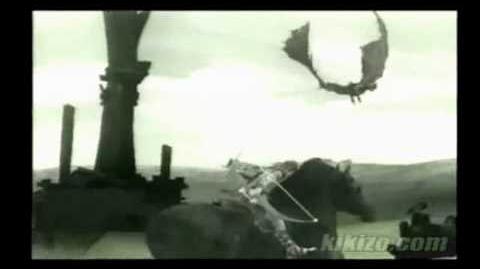 According to an old Team Ico Gamer blog post, Roc was scrapped because the battle resembled the ones with Phalanx and Avion too much and because of trouble with collision detection.[1]
Trivia
Gallery
References


Community content is available under
CC-BY-SA
unless otherwise noted.