Roc (or Avus, its fan-given name) is one of many colossi that were cut during the final stages of the game. Its name is a reference to Arabic mythology.
Appearance
The artbook says, "Its head detail resembled that of a frilled lizard", which can be clearly seen in the screenshots. Its wings seem thin and leathery, like that of a bat. Its neck is very long, because "I actually wanted to do a long-necked bird-type."
Strategy
Roc was fought in a desert-like landscape in an earlier version of the quadrant B3[1]. According to the artbook, "You'd shoot it down with the bow", meaning that the bow and arrow were vital to defeating this colossus, similar to Phalanx. Because Agro can be seen in several screenshots, it is likely that she was necessary for defeating Roc by chasing it, again similar to the battle with Phalanx.
Thanks to datamining, we now have a relatively solid understanding as to how the battle would play out. You would shoot Roc's frills to tuck them in; forcing him to dive at you. You'd then either jump on him from the front or climb his tail; in which he would try to roll you off him before you stab his weak point(s).
Rumors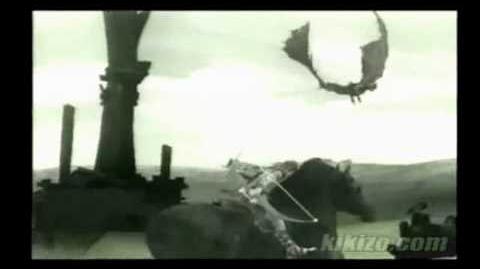 According to an old Team Ico Gamer blog post, Roc was scrapped because the battle resembled the ones with Phalanx and Avion too much and because of trouble with collision detection.[2]
Trivia
A Shadow of the Colossus trailer from March the 5th shows a short clip of the battle with Roc, in which Wander is seen riding Agro while the colossus attacks from above. The full trailer can be downloaded here (played at 1:55).

To date, Roc is the only unused Colossi to be seen in video footage as opposed to development screenshots.
Gallery
References
↑

Research conducted by prominent members of the SOTC Community plus the developer team behind a remake of the 24 colossi version, 'Beyond the Forbidden Lands' has dug up evidence that confirms that Roc's lair was located in B3. This includes evidence such as the pillar of light in one of the images; when lined up with a pillar of light at Dirge's arena from roughly the middle of the beta B3 arena, said light perfectly lines up with the light in the artbook image. There is also datamined textures of the beta B3 arena, which is consistent with the artbook images showing the landscape.



Community content is available under
CC-BY-SA
unless otherwise noted.