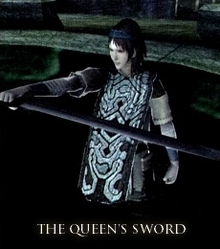 The Queen's Sword is an extremely powerful weapon that is only obtained by slaying all sixteen colossi in Hard Time Attack. While the weapon itself does not provide any advantage to the player in the way of tracking down a colossus (like the Sword of the Sun), the Queen's Sword can eliminate a weak point of a colossus in one or two blows. Even a colossus like Malus can be defeated in two fully-charged stabs.
Dormin says the following upon retrieving the item:
"
Ahh... That is the 'Queen's Sword'...
It can inflict a mortal blow with one strike to the vitals.
"

 
Queen's Sword in Ico
The sword's hilt shares similar design to the hilt of the Queen's Sword found in Ico (minus the chain). The blade itself is also similar, for it has the same length and width, and both blades have a round tip (in contrary to the other blades found in both games).
Worth note, however, is that the Queen's Sword from Ico is inscribed with runes that glow brightly in a constant cycle, beginning at the hilt and going up to the tip of the blade, as if there is magic pulsing through it. Also, there are many sparks and bolts of electricity surrounding the blade. Both these features are absent from the Queen's Sword in Shadow of the Colossus PS2 and PS3 versions, but in the PS4 remake, the Queen's Sword does have these features.
Whether the presence of the Queen's Sword in the Forbidden Lands is just a simple reference to Ico or canon to the story is up to debate.
Trivia


Community content is available under
CC-BY-SA
unless otherwise noted.