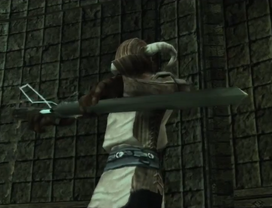 The Queen's Sword is the last weapon found in Ico and is essential to beating the game. The sword is found beneath the castle in the "Sea" level. This sword is also seen in the beginning of the game, as it is used by the masked horsemen to open the Idol Gates into the castle. The Queen's Sword carries the same magic abilities of Yorda and can open Idol Gates in her absence. The sword is the only weapon effective against the queen and is the sole tool capable of blocking her only attack (which is fatal if not blocked and will cause instant death).
Appearance
The Queen's Sword is a massive sword, almost as big as Ico himself, with a round-tipped blade. The hilt is curved and has a relatively long chain attached to it. The sword is constantly fuming energy as many sparks and bolts of electricity dance across the blade. The sword is inscribed with the same runes found in the castle, and as it is brimming with magic, the energy pulses through the symbols in a constant cycle that begins at the hilt and goes up to the tip of the blade. As Ico swings the sword through the air, a dim blue trail flashes in the arc of the blade.
Notes



Community content is available under
CC-BY-SA
unless otherwise noted.