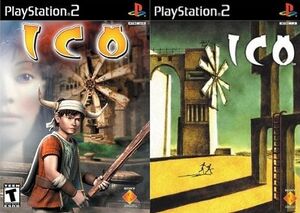 In order to meet an early shipping deadline for a U.S. release of September 30th, many second-playthrough extras present in the subsequent Japanese and European release of Ico had to be cut. In addition, several changes were made to the castle's rooms and puzzles. The following is a list of all revisions made after the release of the U.S. version of Ico, including missing bonuses.
Bonuses
Yorda's speech translated
In the initial playthrough of Ico, Yorda's speech would appear as runic symbols on the bottom of the screen. On a new game started from a cleared game file (referred to as a "second game"), Yorda's speech is translated.
Two-player mode
After starting a second game from a cleared file, a second player can play as Yorda (by adjusting a new "Players" setting in the Options menu).
Shining Sword
A secret weapon that looks (and even sounds, as it swings) like a lightsaber from Star Wars. The blade can vanquish shadows easily, and it has a very long reach if Ico is holding Yorda's hand.
Film-grain effects
A new option that allows the player to select from various film overlays, making the game look similar to an old film. (The overlays are used in various parts of the regular game, including the early cutscene where Ico sees a shadow dripping out of Yorda's cage).
Extra ending
At the end of the game, Ico walks down a long beach to meet Yorda. If this is a second-playthrough file, several watermelons will be behind a large rock near the beginning of the path (the boat "points" right towards it). If Ico picks up one of the watermelons and carries it all the way over to Yorda, an extended ending will play showing them sitting together eating watermelons on the beach.
Technical Changes
Holding hands is executed differently: in the US version you press the R1 button to hold, and press it again to release grip. In other versions, the button must be held to keep your grip.
Yorda's AI was improved. In the US version, she would usually just stand still even if enemies were actively approaching.
Yorda now helps the player solve puzzles by pointing to the place or object of interest and saying Ico's name.
Several of the rooms had their camera angles changed.
A few puzzles were lengthened by adding trickier bits.
Enemies became faster and more aggressive - spawning more frequently than they did in the US version (where they only spawned if the player left Yorda in a different room or at scripted events).
Changes made to the castle
Click to enlarge.


Community content is available under
CC-BY-SA
unless otherwise noted.