Leo's Cave is the developer name given to the arena of the eleventh colossus. The name 'Leo' refers to the developer name of Celosia.
Design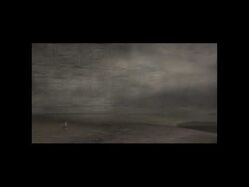 The battle takes place at the bottom of a canyon in the desert, in an altar-like area with flickering bonfires and a view of a drying lake.
Location
The arena is located at the north of the Forbidden Lands, close to Northern Span, Dried Marsh and Desert Fortress, at quadrant F1.
Trivia
The stick that falls off the pedestal can also be acquired via a flash arrow.
According to the colossi nicknames interview, the lake in the arena used to be a lot bigger, but was eventually toned down because of problems involving Celosia's swimming animations looking weak or slow.
An old rumor dating over 10 years called the 'Intersecting Points Theory' stated that there was a secret inside the "door" located in this arena. The rumor, while false, got extremely famous.
In the E3 Demo version of the game, a cutscene with the theme 'Lakeside' plays when first finding the arena. It's unknown if the song would've been changed if the cutscene survived to the final version, as the song fits with the arena.
Gallery