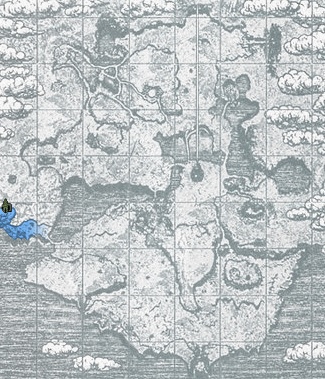 The Lair on the Mesa is a location and shrine in the far west area of the Forbidden Lands in the southwest area of quadrant B4. The "lair" referred to in the title is Dirge's cave; this shrine is located at the lair's southern entrance. (Another shrine, the Lair to the West, is at the north end.)
The "mesa" in the title is actually a series of elevated areas of land, connected by steep slopes along the cliffs. Many kites fly by these ledges, including "Loki", one of the three larger kites. If one is lucky, Wander may be able to hitch a ride.
The path down the mesa leads to the Western Cape, a coastal area where fruit trees grow in abundance by the many earthen bridges spanning the cliffs.
The Colossal Tree
The Lair on the Mesa area features a distinguishing landmark above the cave entrance and shrine: an enormous, dead tree growing in the cliffs. This tree is much larger than any other in the Lands, and is unusually conspicuous, even from afar. It is named the "Colossal Tree" by fans. The most likely reason for the tree's existence is to simply act as a landmark by which a player can easily find the cave and shrine, but this hasn't stopped others from speculating whether or not the tree is part of a yet-undiscovered secret. In the OMP demo, the tree is alive with leafs.