In place of a second podcast on the Giantology blog, Eric Belson posted a link to an audio interview with Arkady Simkin. What follows is a transcript of this interview.
transcript of the interview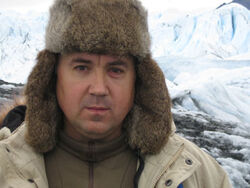 Interviewer: ...And to finish off, we have what many paleontologists are calling...well, a bunch of old nonsense, really - but our guest is here to tell you that it's all a hundred percent true. I'm joined by geologist and former employee of Polarneft Oil and Gas, Arkady Simkin. Mr. Simkin was an independent contractor on the Franz Josef Land Exploration Project. Thanks for joining us, Mr. Simkin.
Arkady Simkin: Hello.
Interviewer: Now...what do you do for Polarneft?
Simkin: I am a geologist, and I specialize in seismic surveys and permafrost, and how it affects our ability to drill. I work with small teams; we go to potential locations for oil and gas reserves, and-
Interviewer: Now, these are all very remote locations, in the far north?
Simkin: Yes, yes.
Interviewer: And, I guess I should put some context for our listeners; we received a videocassette which has some pretty amazing footage of a discovery that you and your team made in the ice. It's in a very remote area, so can you just elaborate?
Simkin: The location where we're looking for these reserves now, because there is something called "peak oil"...I don't know if your guests are familiar with this, but basically it is at this point where you're [sic] extracted the most amount of oil in the end; from then it gets less and less and less until...there is none left to extract; and so we've found that, throughout the entire world, there are only so many reserves; most have been found, have been discovered, and now we're looking for oil in further places, harder and harder to get to. So now we're in the Franz Joseph Land archipelago, which is a group of islands very close to the North Pole...and it's all locked in the ice, it's very hard to get to. So, nobody really goes up there; maybe tourists once in a while, maybe scientists...
Interviewer: Okay, so tell us about the discovery.

Simkin: We were flying overhead, we were looking for a landing site to do one of our seismic surveys, and our pilot...it was impossible to miss. We saw something in the ice, sticking out of the ice, clearly separate from the local geology and topography. So we land, and it appears to us to be a...giant creature of some sort, sticking half in and out of the ice.
Interviewer: Now to most of us, this sounds...amazingly fanciful. I mean, for most of our audience - in fact, for me as well - if I hadn't seen the video, I would definitely have thought that you were some sort of crackpot. In fact, most of the scientific community have rejected-
Simkin: Well no, it's not that it's been rejected - it's been ignored, completely. There is no, no, nobody paying any attention to this. I'm trying to get some notice, and someone to look into this, but nobody's interested; probably they do think it's a fake, I dunno.
Interviewer: Well for most people, the idea of a giant creature that's gone undetected...well I mean surely, someone would have seen this creature before-
Simkin: No, not true, because this location, as I was saying, is so far north; and this island, Остров Винер-Нейштадт[1], is very difficult to get to, and very few people throughout the world have seen this location; and we believe because there has been worldwide great reduction in ice caps, and we believe it's because of global warming and, it's possible maybe someone has been in this location maybe...ten years ago, or...twenty; but in that time since then, we have now had the ice lowered, and now this creature...that was buried in the ice previously is now almost half-revealed, in the ice.
Interviewer: We've really got a short amount of time left, so let's get on to the creature. Describe to me what you actually found.
Simkin: Well...you have to see the video to really understand the scope of this thing. It's absolutely huge. You see in the video we have the helicopters, and it's absolutely...dwarfed. The people are dwarfed, by this creature...it's enormous. Even one small part of it is larger than anything, any type of creature, even dinosaur or giant whale...I don't even know how, how to describe this...
Interviewer: I'd like to just say, for our listeners, that they can check out the video on our website, so go and take a look.
Simkin: Right, right. And I have posted it on my website, and I'm trying to track down...we did a 3-D model on seismic survey which shows the full size of it, inside the ice and outside the ice.
Interviewer: And this is on your website also, which is www.arkadysimkin.pl[2], I believe?
Simkin: Ah - yes...it's not there yet; I'm having trouble with this because this is what I saying about 'nobody's interested' - the company, Polarneft, basically fired me and my team shortly after this; in fact, they sent a team out and brought us back to Nenetskiy, the town in northern Siberia, and we were spoken to and we were told to sign agreement not to talk about this. And we were given more money than we normally get.
Interviewer: They told you outright that you couldn't say anything about this?
Simkin: ...Yeah. They confiscated all of our - all of our footage! The only evidence I have now is this one videotape that I copied for local television station.
Interviewer: I understand that you're involved in some sort of court case right now.
Simkin: Well, I dunno; I'm working with an attorney right now. I'd like to file lawsuit, but...it's very difficult in Russia to do this kind of thing against a big company, because it's actually subsidized by the government, and it's not like in England - we cannot just sue the government.
Interviewer: So you're suggesting there's some sort of cover-up, some sort of desire to keep this quiet?
Simkin: Absolutely, absolutely. Everybody who was on the team was either threatened or paid off or isn't talking about it anymore, so I'm having a hard time. One of my team members has this 3-D video, I'm trying to find it; as soon as I find it, I will post it onto my web site because I very much want people to see this.
Interviewer: Yeah, I mean I would actually like to see that myself, so maybe we can get you back on the show when that comes out.
Simkin: Yes, yes, I would like that, and if anyone...has an interest in this, if there is a maybe...paleontologist or other type of scientist who's interested in helping to study this creature and get the word out, because it needs to be studied...we can't just pretend it doesn't exist.
Interviewer: So how big are we talking about here? I mean, are we talking about the size of a woolly mammoth, something of that scale?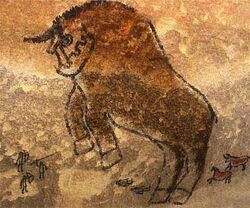 Simkin: No; a woolly mammoth, like I said, would be dwarfed by this creature. It's a hundred times bigger than something like this. It's something we couldn't even dig out, or move it - unimaginably huge. I dunno, it's almost impossible that this thing exists. And yet, I have the video, I saw it with my eyes, and we have this 3-D models we're trying to find.
Interviewer: Do you have any idea of the sort of time scale of this creature? I mean, is there any way to date the ice?
Simkin: Well, there is - yes, yes. We know that this ice cap is probably around ten...fifteen thousand years old, roughly, because we know this from woolly mammoths that have been found in the permafrost - вечная мерзлота[3] - permafrost, in Siberi-[struggles to pronounce "Siberia", and apologizes]. Certain findings of that have able to date them, so it's roughly the same age as what I said. We call it "prehistoric", but early mankind might have been involved in this because one of the things I discovered when I was coming back is something called "The Myth of Khatanga". Khatanga is a small, northern Siberian town, and there is a story in their local culture about a giant creature that would take all of their - when the hunters or fishermen would go out, and they would stockpile their food - this creature would come along and eat it all, and sometimes even attack the people and eat them as well. And, they think - because these are nomadic tribes now - the story basically ends with them saying that they were so afraid of this creature that they became nomadic, to run and hide from this at any time. If they had villages, it would find them, so if they don't have villages, the creature cannot find them. But at certain point in the story, the creature just...disappeared. He never came back, but since then they've been nomadic.
Interviewer: Well, it's all very interesting, and we are running out of time, and like I said, for those of you who are interested, Mr. Simkin's website is arkadysimkin.pl[2].
Simkin: arkadysimkin.pl[2]. да[4].
Interviewer: Thank you very much for joining us; it's all very sci-fi, and we'll be back again next week with another talk on prehistoric lifeforms and comets. So thank you very much, Mr. Simkin.
Simkin: спасибо[5], thank you.
---
External links