"
How did you do that?
"

–Ico, after Yorda opens the first Idol Gate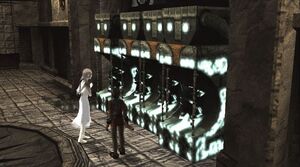 Idol Gates are barriers that can only be opened with Yorda's innate abilities or - late in the game - with the Queen's Sword. They are named for their statue-like appearance and usually appear in groups of four.
Among other things, the gates are a means of ensuring Ico and Yorda stick together in their quest to escape the castle. Ico can usually reach these gates easily enough on his own; the challenge is to find a way for Yorda to get over there with him. Once Yorda approaches the gates, she automatically opens them with an energy that seems to be rooted deep within the castle; the statues glow and move aside at her command. The gate upon being activated dispels all of the shadow creatures that come after her as well clearing the area entirely of them, including removing the portals they manifest from.
The largest idol gate is nine statues long; it is the gate seen at the far end of the giant bridge when the pair open the castle's main gate at long last and are seconds away from escaping. Yorda never gets the chance to open this final gate, however, as the Queen quickly intervenes to put a stop to Ico's persistence. From then on, the gates are an obstacle until Ico acquires a mysterious sword that his captors had previously used to beckon the gates aside.
It should be noted that, upon close inspection of the statues, one will see that they resemble Ico, a possible hint at the final fate met by the other horned children.
External Links