The Harpoon of Thunder is a ranged weapon that Wander can throw at a colossus' major sigil to inflict major damage. It is a reward for defeating two colossi on Hard Time Attack.
Dormin says the following upon retrieving the item:
"
That is the 'Harpoon of Thunder'... With it, thou shalt be able to inflict greater damage upon a colossus from afar...
"

 
The damage done by a fully charged throw is about the same damage as a full stab with the Ancient Sword or the Sword of the Sun. Even though it deals serious damage, the Harpoon is still a ranged weapon and thus cannot kill a colossus. A colossus' life bar can be almost depleted with the use of the Harpoon, but in the end a stab from a sword is still required to kill it. It will, however, like the swords and Flash Arrows, trigger minor sigils with a successful hit.
Notes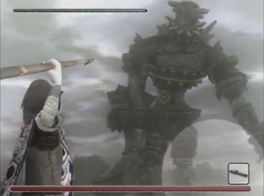 The reticle seen while aiming the Harpoon of Thunder is different than that of the bow in both color and shape. It is green and more circular.
In the PS4 remake, the Harpoon of Thunder is able to actually kill some of the colossi, as demonstrated in the following videos: Phaedra, Dirge, Kuromori, Argus, and Malus.