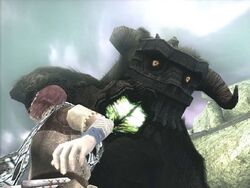 Hard Mode is an unlockable difficulty in Shadow of the Colossus, accessed from the main menu once the game has been successfully completed on Normal. The differences between Hard and Normal difficulty are:
No control tutorials are given, although Dormin does give Wander hints during battles, including in Time Attack.
Five colossi (Valus, Quadratus, Gaius, Barba, and Argus) have one additional weakpoint. Phaedra has two more.
Wander will take more damage from regular colossi attacks, and very heavy attacks (such as being stomped on, for instance) will now kill him instantly, regardless of his maximum or current health.
A new set of items can be obtained through Hard Time Attack, such as the Shaman's Mask and the Queen's Sword from Ico. Go here for the full list.
Save files have an orange lowercase "h" next to the game clear number (i.e. if one is playing a second playthrough on Hard mode, "2h" will be seen next to the save file).
In the PS4 remaster, Hard Mode is unlocked by default.