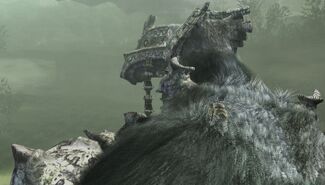 Fur is a form of hair that grows on almost all land animals and some sea animals. Fur is usually found on mammals. It is made of keratin, the same fibrous protein that nails, claws, talons, etc, are made of.
Use
In Shadow of the Colossus, fur is located on every colossus in one place or another. Most colossi feature dark blue or brown colored fur, yet some are differently colored. For example, Pelagia has green fur on its body (not to be confused with the moss growing on its shell) and Malus has white/light gray colored fur.
Fur is the main climbable material in the game and every magic sigil (major and minor) is located on a furry part of the colossus' body. Therefore, fur is vital to defeating every colossus.
Notes
Two colossi (Cenobia and Celosia) have fur hidden underneath their armor which needs to be shattered first. There are also colossi that have fur on their body while their "real world" counterpart does not, e.g. there is no bird of prey known to man with fur instead of feathers, yet Avion does have fur.