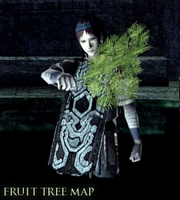 Received after defeating ten colossi in Normal Time Attack or six colossi in Hard Time Attack, the Fruit Tree Map allows Wander to see all of the fruit trees on a map. It is a smaller and flat version of a fruit tree. The trees are marked using a yellow fruit-like symbol. Trees growing in the secret garden aren't marked on the map.
Dormin says the following upon retrieving the item:
"
That is the 'Fruit Tree Map'... By using it, thou shalt be able find the fruit trees throughout the world easier.
"

 
Like the Lizard Detection Stone, it isn't an item that is required to carry, rather equipped and activated on the map.
Note: all the fruit on a particular tree needs to be eaten for the mark to disappear from the map.


Community content is available under
CC-BY-SA
unless otherwise noted.