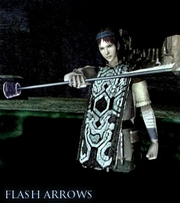 The Flash Arrow is a special type of arrow that explodes upon impact, unlocked by defeating all 16 colossi in Normal Time Attack. Flash Arrows can be used to hit a colossi in a major sigil for a decent amount of damage. It can also be used to distract a colossus, keep them from moving for a second, or to interrupt an attack.
Dormin says the following upon retrieving the item:
"
That is a 'Flash Arrow'... That arrow explodes...
Thou may be able to injure a colossus without aiming for the vitals...
"

 
Use
The Flash Arrow should be used carefully, because it can hurt Wander - and even knock him unconscious - if the explosion is too close. When shot at Agro, she neighs and tries to run away but will be knocked down. She'll get up after a while, seemingly unharmed.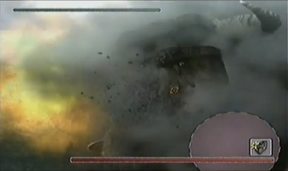 Flash Arrows (just like the Harpoon of Thunder) can also trigger minor sigils that normally would require a stab with one of the three swords. For example, if Argus' weak spot on its right arm is successfully hit with a Flash Arrow, it will drop its weapon. This is, however, a rather difficult thing to accomplish as the minor sigil is relatively small and Argus moves its arm a lot.


Community content is available under
CC-BY-SA
unless otherwise noted.