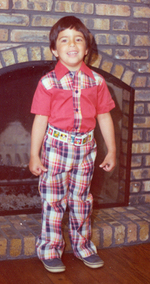 See also: Giantology
Eric Belson is the fictional creator of the Giantology blog, the hub site for Shadow of the Colossus's viral campaign. He is voiced by Glenn Sanders, who also wrote a year's worth of content for the blog and produced the websites for the other characters in the campaign.
Biography
Eric Belson resided in Evanston, Illinois (map), and worked at a major electronics store as the manager of its home theater department. (He did not specifically say which store out of fear of losing his job, but a quick search reveals it was likely the Best Buy on Howard Street.)
Belson was 28 years old in January 2005; his birthday is on June 13. In addition to being an avid gamer, he is interesting in history, mythology, movies, books, music, TV, and science. When he started the Giantology blog, he had two cats and a girlfriend named Lauren, whom he only mentioned in passing (we do learn that she was an unstrict vegetarian and loves buying shoes).
Belson worked on the Giantology blog throughout all of 2005, with the end goal of writing The Age of Giants, a guide to the mythology and evidence surrounding the existence of giant beings throughout history. In October 2005, Belson became directly involved with the five "discoveries" of the colossi, providing links to the webpages and media surrounding them and trying to contact the people who found them. The five discoveries soon became such an integral part of his campaign that he decided to use the photo of Hydrus's discovery as the book's cover. His final post to the blog was on December 26, 2005, where he detailed his plans for travelling the world in search of more evidence "that giants once walked the earth". He later sent a postcard to Lauren, excitedly claiming he had found such evidence[1]. Despite promising in this postcard to send Lauren photos of this discovery, he was never heard from again.
Other info
His father suffers from sleep apnea. As an inside joke, Belson tells him to "rest in peace" instead of saying "goodnight".
Belson commented on the devastating effects of hurricane Katrina in August 2006. He mentioned he had a friend named Mike who was living in New Orleans at the time, and didn't know what had happened to him. In September, Belson got an email from Mike, saying his family (a wife and three kids) had survived, but escaped "just in time" and only with "little more than the clothes on their backs". Mike is not mentioned again after that.
His email address is giantology@gmail.com . Belson also registered www.giantology.net as a domain name, which now displays a generic page displayed for expired domain names. (It originally simply redirected to the Giantology blog.)
Podcasts
Podcast #1 - Belson introduces himself and his blog in his first podcast, which focused primarily on debating whether or not the Tsunami Giant video was a hoax.
The Arkady Simkin interview (Podcast #2) - Simkin talks with a radio producer in England about his team's findings in an attempt to undermine the actions of Polarneft's mysterious cover-up.
Podcast #3 - Belson debates the authenticity of the Ice Giant video and Boris, and starts planning for his worldwide search for evidence of giants.
Podcast #4 - Days before leaving to tour the world to write The Age of Giants, Belson plays Boris Atlasov's voicemail for his listeners, helping them find the secret directory at the Stop Polarneft site.
Quotes
From an early post describing his blog: "This is not a personal blog. I might mention a noteworthy personal item from time to time, but I'm not going to babble about every silly thing that happens to me every day. This is a... what's the best way to put it... kind of a research blog. Or an idea blog. Basically, I'm writing a book. It's the book I've always wanted to write."
From his bio on Giantology: "I am a student of the world - someone whose curiosity always gets the better of me, to my constant delight and disruption. You could call me a dilettante - jack of all trades, master of none - a fox in a world of hedgehogs."
References
↑

The postcard was not posted to the Giantology blog (or any other known location); it was found in a making-of video about the campaign. The postcard's text reads "Dear Lauren: I think I finally found it! Real evidence that giants once walked the earth. I will send photos as soon as possible. Yours, Eric Belson."