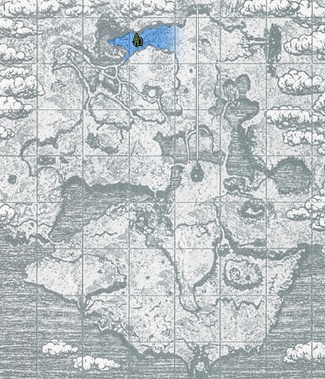 The Dried Marsh is a northern area in the Forbidden Lands. Its shrine can be found in the western half of the region, in quadrant E1. Along with its name, the arid ground and nearby lake suggest the area used to be a wetland with abundant plant life. Now, however, the influence of the eastern desert has rendered much of it lifeless and empty.
Most players will pass through this area to get to Hydrus, finding this a much easier path than the more "direct" route through the eastern passages of the Stone Arch Gorge.
As the region's title suggests, there is little flora and fauna, there being no fruit trees and only one lizard.
Significant nearby areas
The entrance to Hydrus' lake is at the west end of the area.
Near the lake, the player may also take a southwest path to the Stone Arch Gorge.
Panorama