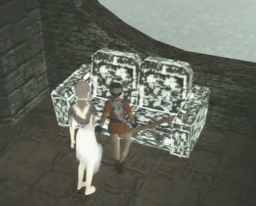 In Ico, numerous stone couches can be found at regular intervals inside and outside the castle. They are the only means by which the player can save the game.
In order to save, both Ico and Yorda must sit on the couch together. If Ico sits down while Yorda is nearby, she will automatically sit down with him. There are times when Yorda cannot reach the couches until Ico figures out a way for her.
After Ico is separated from Yorda during their run across the castle's bridge, the game cannot be saved. The final path to the Queen is a long one, complete with lengthy puzzles, fights, and events, so make sure to set aside some time to complete this section of the game.
Location in the Castle
There are 14 couches found in the whole castle. There's also one other save point at the very end of the game, but not using a couch.
Old Bridge
Trolley 1
Trolley 2
Crane
Main Gate
Graveyard
Windmill
Stone Pillar
East Area
East Reflector
Waterfall
Gondola
Water Tower
West Idol Stairs
Sand Beach (not a couch, simply a save point)
External links



Community content is available under
CC-BY-SA
unless otherwise noted.