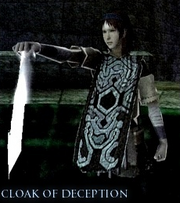 The
Cloak of Deception
allows
Wander
to become completely invisible. It is unlocked by defeating fourteen
colossi
in Normal
Time Attack
mode.
Dormin says the following upon retrieving the item:
"
That is the 'Cloak of Deception'...
By using it, thou shalt become invisible to the colossus...
"

 
Use
As stated above, wearing the Cloak of Deception renders the player completely invisible. While invisible, a colossus will not be able to attack Wander, but if he shoots at one with his bow & arrow, it may realize where he is and look (in Malus' case, aim) at him. If Wander starts climbing a colossus, it will instantly realize it and start trying to shake him off.
Even to the player, Wander is invisible with this cloak. The only thing the Cloak does not hide is his shadow, which allows the player some idea of where Wander actually is. Also, the Cloak of Deception cannot be used in conjunction with the Cloak of Force.
Trivia
If a player begins a colossus battle while wearing the Cloak of Deception, focusing the camera on its eyes will show that they are not illuminated. Instead, they will be completely black, much like when when a colossus is defeated.
Gallery


Community content is available under
CC-BY-SA
unless otherwise noted.