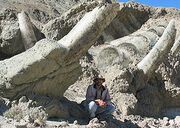 See also: Jebal-Barez skeleton

Casper Shilling is an archaeologist and paleopathologist of both Dutch and Belgian ancestry. He was born in Dordrecht, Holland on June 7, 1961, which would make him 44 years old at the time he made his discovery in 2005.
He is married with two daughters, and is interested in both feather bowling and model boats.
Academic experience
He earned his undergraduate degree in archaeology, after being inspired by this article from Pacific Lutheran University. He went on to earn his master's degree in paleopathology. It is not known where he earned it, though his website provided a link to some information about his field from the Unviersity of Utah. (The link is now defunct, but archived versions can be found here.)
After he earned his master's degree, it is implied that Shilling took up an archaeological internship in Iraq, assisting in an excavation of the mausoleums of Alī an-Naqī and Hasan al-Askarī, the tenth and eleventh imams, in the city of Sāmarrā.
He obtained his doctorate in archaeology and ethnology; his thesis focused on genetic anthropology and human migration.
Other places Shilling traveled to
In Egypt
In Iran
The discovery of the skeleton in Jebal-Barez
In December 2003, a devastating earthquake struck the city of Bam, Iran (map), killing over 26,000 people, injuring 30,000 more, and leaving over 100,000 homeless. At least 85% of the city's buildings were damaged or destroyed. Tragically, the historic citadel of Arg-é Bam, the world's largest adobe structure, was almost completely razed to the ground. While this was a painful moment for Shilling, he also saw the opportunities presented by the disaster, including being able to investigate skeletons and other human remains from within the city's walls. Shilling spent several months in the city; he posted an entry to his website (dated March 2004) saying that he still had a lot of work to do in uncovering the city's ancient secrets.
On June 12, 2004, while eating dinner in a Bam café, Shilling was approached by the father of a young boy, who claimed his son had "found something in the mountains" and wanted to tell him about it. The next day, Shilling went with the boy into the Jebal Barez mountains, where he found what was clearly the skeletal remains of a creature of unprecedented size. Shilling did not specialize in paleontology (the boy's father was told to see him by the staff working in the citadel because they were stretched too thin), but the unprecedented size of the remains captured his full attention.
Shilling speculated that the recent earthquakes may have been at least partially responsible for unearthing the bones, which tests later confirmed were indeed organic matter. He correctly guessed that the exposed section of bones was a giant ribcage after his experience of studying skeletal remains.
Quotes
On how he ended up with two seemingly random hobbies: "For those of you wondering how I managed to acquire two such random hobbies, the explanation is quite simple. Growing up I spent summers with my grandparents (mother's side) who lived in a small town outside of Ostend. Each year the town hosted one of the larger feather bowling tournaments in Belgium. My grandfather always participated (and even won once) – hence my exposure to the game. It's a bizarre game but highly addictive, so beware! As for my love of model boats, that is a passion I share to this day with my father who, coincidentally, couldn't stand feather bowling."
On paleopathology: "I have always been interested in disease and its effects on human history, so the fact that I ended up in this field is really of no surprise. I'm just fortunate that ancient remains don't deal with blood as I faint at its very sight. (Utter nonsense, I know.)"
On why he chose to write his website in English, rather than his native language of Dutch: "I have been very fortunate with my archaeological opportunities and believe that sharing information is not only important for the betterment of our field but also necessary for younger archaeologists to learn that open dialogue is the surest way to solving the mysteries of our past. Which is why I am presenting my site not in my native language, but in English - some may find this unfortunate, but in my opinion it is better to bring knowledge to the widest audience than cater to a distinguished few."