Badlands is the developer name given to the unused arena of Roc, one of the unused colossi.
Design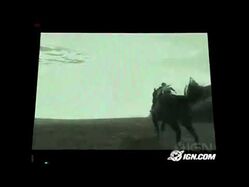 A desert-like landscape with a huge impact crater on its center. It is filled with various types of ruins, including a massive pillar which the colossus rested on.
Location
The arena was located on the southwest of the Forbidden Lands, next to the Blasted Lands, at quadrant D6.[1]
It was previously speculated to have been located at B3 due to a seemingly similar shaped area being seen in an old low resolution texture, but it was debunked when several pieces of evidence, one of them being Roc's pillar, were found that linked Badlands and D6 together.
Trivia
Various pieces of Gaius' armor can be observed in one of the artbook screenshots and in the video footage of Roc.
A short clip from an extended trailer by IGN shows Roc's pillar. Found by a user named Aith.
Badlands' chip data is full, indicating that the whole quadrant it resided on was modelled. This correlates with the existence of the Beta Plains and it connecting to the surrounding quadrants.
By examining the footage of Roc closely, one can note that the base of its pillar has smaller pillars supporting it, with spaces big enough for Wander to fit through. It's possible that it was made that way in order for Wander to hide from the colossus and regain health.
Gallery



References