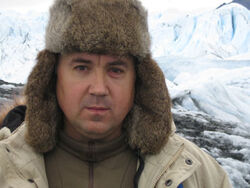 See also: Polarneft conspiracy
Arkady Simkin is a Russian geologist who specializes in studying seismic activity and the effects of permafrost on drilling. A former employee of Polarneft, a Russian oil and gas company, Simkin was an independent contractor on the Franz Josef Land Exploration Project, working with small groups of people to scout out increasingly remote locations for possible oil reserves in the far north.
Biography
A resident of Murmansk before he moved to St. Petersburg, Simkin became interested in geology after working on several offshore oil platforms in a gulf south of the Kola Peninsula and studying the erosion of the White Cliffs of Dover in Britain. He went back to school soon after, earning an undergraduate degree in Geology, a master's degree in Applied Geology, and finally a Ph.D. in Glaciology and the mechanics of arctic drift. His interests in studying the geology of the Arctic developed after studying the effects of permafrost in Sweden as an intern.
Discovery of Quadratus
On October 5, 2005, Simkin's team investigated an anomaly on Ostrov Viner-Neyshtadt, an island in the Franz Josef Land archipelago. The island was the eleventh of fourteen survey sites in the archipelago designated by Polarneft. Simkin's team decided to investigate the site, because the radar readings from the island were vastly different than those they had taken approximately two years ago.
Simkin's team quickly found the remains of an incredibly massive creature at 80° 47'N, 58° 10'E, on the western half of the island.
Boris Atlasov
Boris Atlasov was a colleague and friend of Simkin who played a somewhat large role in the Polarneft conspiracy by leaking the video containing the seismic scan of the giant.




Community content is available under
CC-BY-SA
unless otherwise noted.